THE PROJECT
In 2020, Brooklyn Brewery opened "B", its first flagship retail space outside of N.Y.C. in collaboration with Kirin Beer and K5, a creative lifestyle hotel set in a 1920's-era bank.

Its goals were to increase Brooklyn Brewery brand awareness, sell high-margin specialty beer direct-to-consumer and grow the craft beer segment through reaching new audiences in the greater Tokyo area.
Kirin approached me to bring "B" by Brooklyn to life through brand strategy, go-to-market framework and product design.
BRAND POSITIONING
A Neighborhood Powerhouse
POWERHOUSE
"B" is the beating heart - the home and enabler of creative subculture for K5, Nihonbashi and wider Tokyo.
TRANSMITTER
A content amplifier, emitting contagious frequencies of chaotic yet refined creative energy.
Broadcasting what's next in art, music, food and entrepreneurial spirit, all powered by beer.
GLOBAL STAGE FOR COLLABORATION
An inclusive space & medium for everyone to create, share and inspire.
BROOKLYN BREWERY'S HOME IN JAPAN
A platform to unleash the Brooklyn Brewery's global campaigns, beer and culture within a dynamic space.
A home to connect and exchange with Brooklyn Brewery's global partners and consumers across 30+ countries.
COLLABORATIVE DESIGN
If "B" was a powerhouse, it needed a bat signal. We created a dynamic international collaboration starting at home, fusing illustration from Brooklyn-based illustrator Masaya Nakayama with Hidenobu Takahashi of Smile Neon, one of Japan's last remaining traditional neon benders with over twenty years of experience.
VISUAL ENERGY
We were ready to bring Brooklyn Brewery to life through a high-voltage blend of glass, fire, volatile gases and of course, beer in Nihonbashi.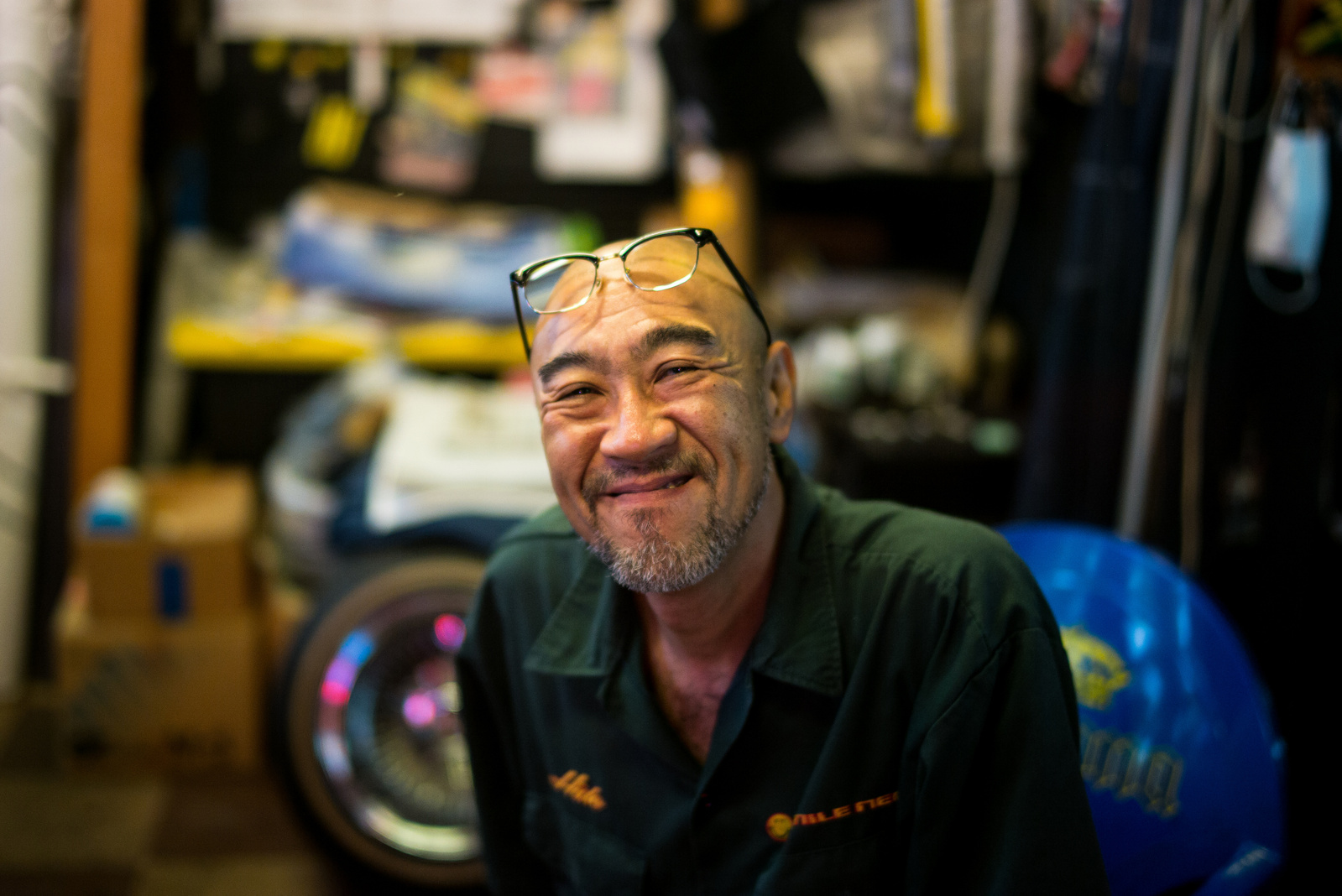 COLLABORATIVE MERCHANDISE
BROOKLYN x RIENZOME TENUGUI
To adorn our walls and create a limited-time drop rooted in the neighborhood, we looked to Nihonbashi's historic roots as a mercantile & textile center during the Edo-period.
Rienzome Tenugui has been in business for over 130 years, designing and crafting hand-dyed Tenugui towels.
We paired Brooklyn-based illustrator Ashley Swope with one of Rienzome's master craftsmen to create a piece that could decorate & brand our space while serving as a consumer-facing merch drop. The design features Nihonbashi's iconic "Kirin" dragon statues in the wayō-setchū style (Western-Japanese fusion) that guard over the bridge to the neighborhood.
Experiences:
B was a space built for activation -we developed a series of Five Programming Pillars channeling Brooklyn's Brand Positioning of "Embracing Differences", ideated event concepts within each, defined KPI's for each to ensure a well-rounded experience, allocated budget and formed a Events Team working group to maintain a running calendar of collaboration.
MUSIC & MORE
-Tokyo Record Bar: Underground DJ Sessions
-BK Break: B-Boy/Girl Dance Nights
-Brooklyn D.I.Y. Punk Sessions
-Hip Hop Jams w/local rappers
CULINARY CHAOS
Brooklyn By the Slice Pizza Fest
Brooklyn Burger Bash
Ice Cream Sundays ft. Beer-Infused Ice Cream Shop Collaborations.
Brooklyn Bodega - NY Inspired Streetfood and Culture.
FASHION & DESIGN
Bespoke Brooklyn "B" collaborations and drop parties with New York x Japanese brands.
Thrift Swaps and Vintage Markets
Tie-Dye Parties
Live Painting & Galleries
"B" WELL
Heavy Metal Yoga
Brooklyn x Nike Japan Running Club
Special Effects (Non-Alcoholic) Sunday Brunch - Free Live Show x Bagels
BROOKLYN WEEKEND
To drive traffic to "B" during slower weekend hours, we curated a series of high-profile pop-ups with resonant local brands and invited their audiences into our space.
We partnered with New York's iconic vegan icon, Superiority Burger's Tokyo outpost and the New New York Club, a Japanese bodega & sandwich shop in Meguro for two distinct weekend experiences featuring music, food, limited-edition merch and good times.
RESULTS
Superiority Burger NYC x "B" Pop-Up
Sales +50% vs. September Average / +172% vs. Revenue Target / +65% Guest Traffic
New New York Club x "B" Pop-Up
Sales: +72% vs. September Average / +200% vs. Revenue Target / +100% Guest Traffic
Total:
+$10,000 USD Revenue
+300 Distinct Consumers
BROOKLYN-TO-TOKYO
1-Year Anniversary Beer
To celebrate "B"'s 1-year anniversary in 2021, we designed "Brooklyn-to-Tokyo", a limited-edition product around the collaborators who brought the bar to life.
The label featured B's now iconic neon sign, while the sour beer served up an electric buzz of clean tartness and lively citrus from Japanese Yuzu purée.
Brooklyn-to-Tokyo was released simultaneously in the United States and Japan, with $1 from each beer sold to Heart of Dinner, a non-profit delivering home-cooked meals to senior citizens of AAPI descent throughout NYC.