ON AIR
IN HONG KONG

Hotel Radio, the World's leading live streaming platform for Heavy Music, sought to expand its operations and customer base from Europe to Asia.
We strategized, organized & live-produced the metal maniacs' first-ever live stream in Hong Kong with the city's renowned post-punk outfit David Boring in a gothic, underground haunt.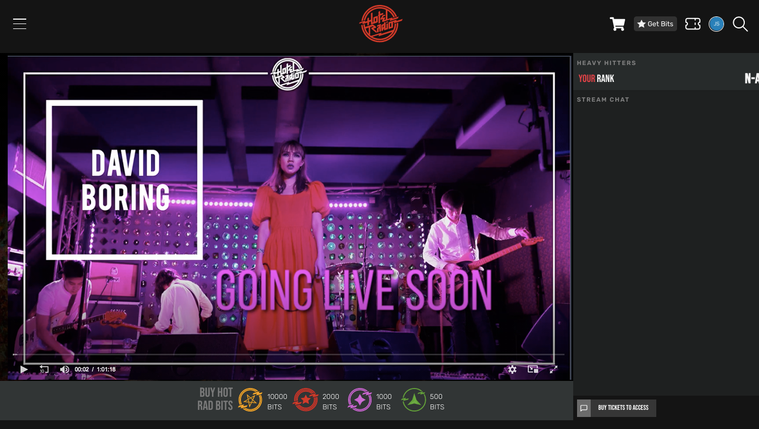 RESULT
The activation was a digital and in-person success for Hotel Radio:
-Technical proof-of-concept for high-quality live streams in HK.
-Over 100 digital stream tickets sold
-In-Person Sold-Out Show
-$2000+ USD combined revenue
-Authentic connection & engagement with Hong Kong's tight underground music community.
-New site subscribers from Asia.
TESTIMONIAL
"Joe was most excellent to work with. A relentless force behind the production, almost tireless in his ambition to help see the project through to completion. He was without doubt the most professional and detail-focussed production manager we have worked with, unceasing in his ability to to switch between the functional and the creative. Would recommend 100%. 5 Stars. 10/10." - Aaron Hazan, Director Hotel Radio
THE BAND
We booked David Boring, one of Hong Kong's most ferocious post-punk bands, to channel electric visual energy and noise to the digital screen.
Engagement over the stream was key, and David Boring's frenzied motion and stage presence made them a great partner.
The band has also been featured on CNN's Parts Unknown, SXSW and more - utilziing an international draw for Hotel Radio's global userbase.
THE VENUE
A unique setting was important to the visual ambiance of a digital show - we partnered with Quality Goods Club, an industrial music venue with a gothic flair hidden underneath the Hong Kong streets.
We transformed QGC into an unholy tomb, complete with fog machines, burning candles, red wash lights and gothic columns for a heavy atmosphere.